The ProCharger Accessory Drive Kit offers the sleek design style you expect from our brand, and a unique supercharger bracket design that offers you the convenience of adding the supercharger kit when you are ready. Specifically designed for Chevy LS engines, this kit includes everything you'll need to fit the accessories you want. The design features our popular 8-rib or 10-rib pulleys that increase grip, reduce stretching and prevent belt slippage when compared to the traditional six rib designs.
ORDER JUST WHAT YOU NEED
The LS Accessory Drive Kit is flexible and expandable. Watch the image as an example of how you can add or subtract different components.
The base kit includes:
– Water pump
– Water pump bracket, pulley, and belt
– Crank Pulley and belt
– Alternator bracket, pulley, and belt
Or you can upgrade to include the following:
– Power Steering bracket, pulley, and belt
– A/C Pulley and belt
– Supercharger bracket, tensioner, and belt
Balancer required:
– 8 Rib – ATI #917345
– 10 Rib – ATI # 917347X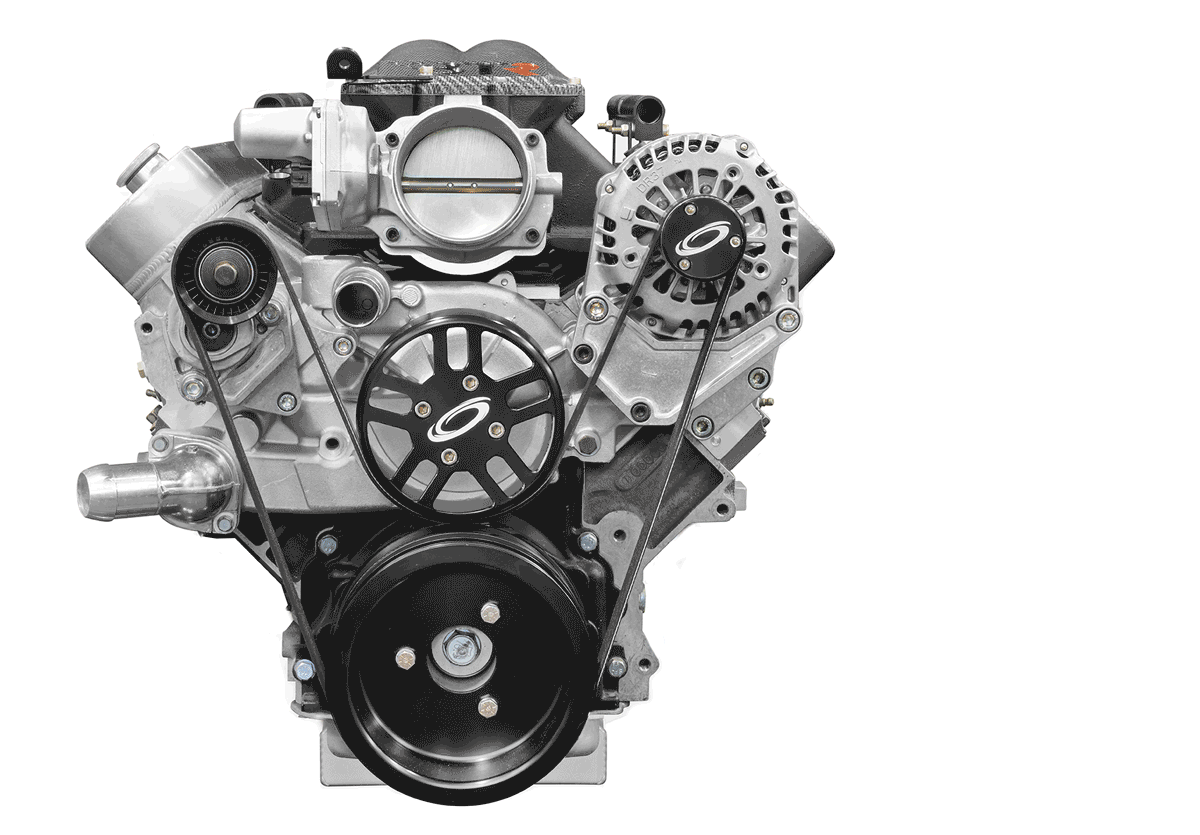 KIT NOW, PROCHARGE LATER
Of course, we would love for you the buy them at the same time, but we understand. Project vehicles often mean you need to do these installs at different times. But with this accessory drive kit, you are able to save time and money by installing a kit that places the supercharger bracket closest to the crank outlet and allows you to add the supercharger bracket and kit when you are ready. It's an easy swap, with no major disassembly required to add the supercharger bracket.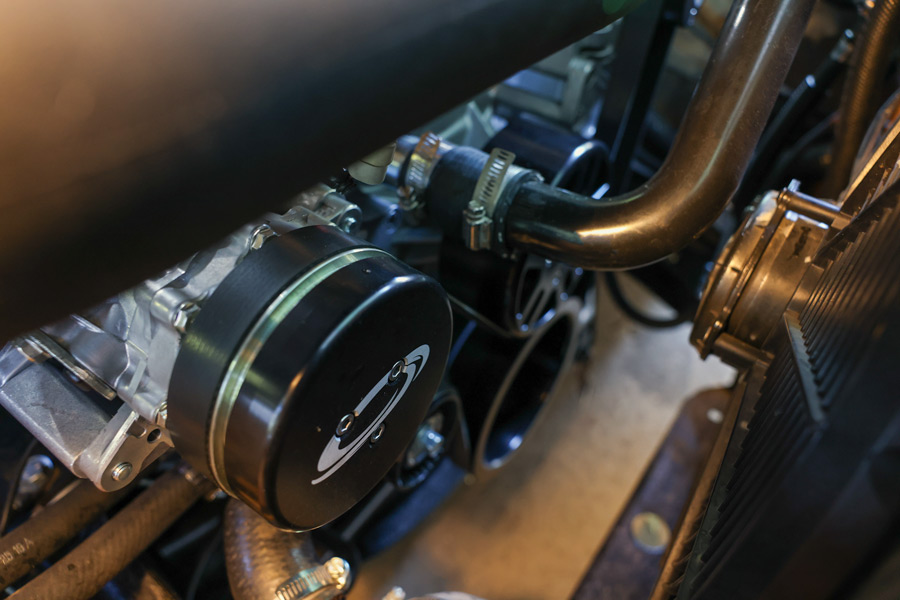 COMPACT DESIGN
Our engineers created a sleek design that functions as good as it looks. The design features a 6-rib accessory belt drive that sits forward to allow an 8- or 10-rib supercharger drive belt to be placed behind it (now or later). Heavy-duty, spring-loaded tensioners are used on both belt kits for virtually maintenance-free operation, even after years of high load, high rpm use. To assist in different engine configurations, the supercharger outlet can face either direction.
DIMENSIONS
LS ACCESSORY DRIVE WITH SUPERCHARGER
LS ACCESSORY DRIVE WITH F1X / F2 SUPERCHARGER BRACKET
LS ACCESSORY DRIVE NATURALLY ASPIRATED (N/A), ALL ACCESSORIES
LS ACCESSORY DRIVE NATURALLY ASPIRATED (N/A), WITH POWER STEERING, WITHOUT A/C
LS ACCESSORY DRIVE NATURALLY ASPIRATED (N/A), WITHOUT A/C, WITHOUT POWER STEERING
ACCESSORIES NEEDED
Sanden SD-7B10 A/C compressor 6-rib drive
2007-2013 GM Truck Alternator, GM p/n 20881337 (or equivalent)
GM Type 2 Power Steering pump Tuff Stuff 6175AL (or equivalent) reservoir p/n 6175ARES, remote reservoir required for supercharged applications
Water pump supplied
ADDITIONAL NOTES
Pinning crank pulley is recommended
Accessory Pulleys included
Can be ordered without A/C
Can be ordered without power steering
Not available for LS7
Not tall deck compatible
Not compatible with VVT